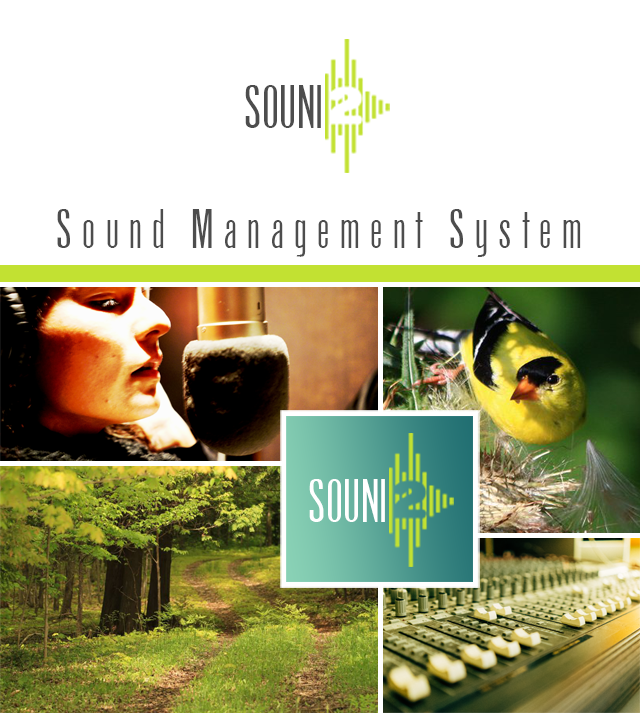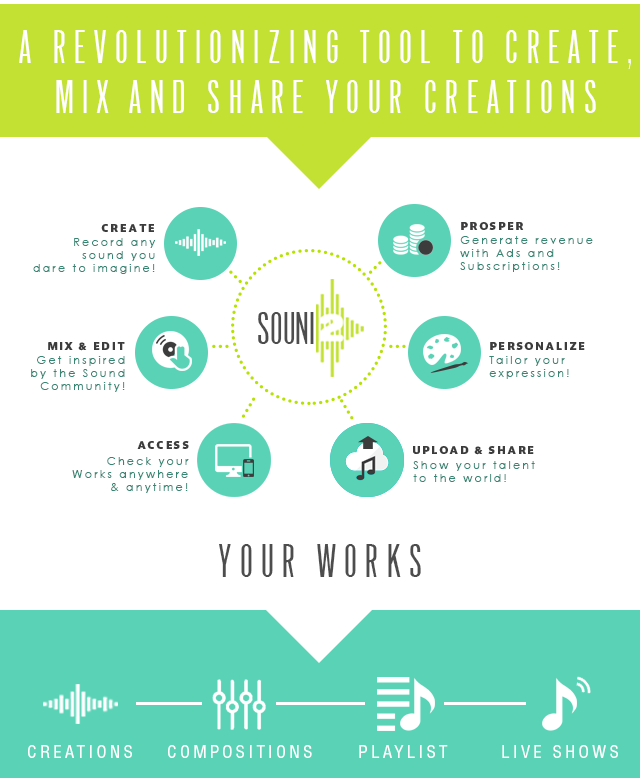 Upload any sound Creation you want: Music, Stories, Poetry, Whispers, Thoughts, Nature, Sound Effects or anything you dare to imagine! Browse the catalog to discover new sounds and find inspiration.

Share your talent with the world!

Mix Creations with the Mixing Tool to craft new Compositions. Use your own Creations or the ones shared by the Community to produce new music, enhance the magic of your stories, add spice to your words, etc. Enjoy your favorite content the way you want: There are no limits! Just choose what Creations you want and how you want them to play. You can also edit the Compositions shared by other users to craft new Compositions.

Use your own Creations and/or Compositions or the ones shared by the Community to produce Playlists with the Playlist Tool and turn them into Live Shows when you are online. Modify the Playlist live to add new Creations and/or Compositions, requests from your followers, Ads or to promote yourself / friends / other composers. Schedule your shows to stay in touch with your fans and use the Live Show chat to get closer to your followers.
Personalize your Works (Creations, Compositions, Playlists and/or Live Shows) with added extras. Set up images that will be shown when your Works are played and add text files for transcripts, translations, special thanks, licenses, etc.

Share anything you want the way you want to share it. Control how your Works are accessed and used by the Community. You decide if your Creations and/or Compositions can be viewed, mixed and/or included into other user's Playlists.

With a Cloud based service, your Works will always be available anywhere you go. You can keep your Works organized and play them on any device with a compatible web browser or with the app.
A Subscription model centered around supporting the Sound Creation Community. With an active Subscription, every play will reward the Creators.

Monetization is simple and convenient. You decide how your Works generate revenue for you: Direct Purchases, Ads or Plays.

The site will use a Credit system to easily handle the different transactions. Use Credits to buy Subscriptions, Creations and/or Compositions. Earn Credits via Direct Purchases, Ads or Plays. If you qualify, you can also convert Credits into cash..

María is a Computer Engineer with a Masters of Business Administration and over 10 years of experience in Information Technology and Financial Services, residing in Canada.

Fernando is a Computer Engineer with over 15 years of experience in Information Technology and Consulting, residing in Costa Rica.

María will be leading the administrative side of the project, given her global business experience and interpersonal capabilities. On the other hand, given Fernando's vast experience and contacts in Costa Rica's booming technological sector, he will be leading the technical development of the project.

We have worked in the software development industry long enough to fully understand the many risks associated with large software projects. We will apply every treasured lesson learned throughout our careers to protect and enhance our project.

Since the beginning of this idea, we worked together to identify our biggest risks and we have researched thoroughly our options to build a solid project, hence the extended time dedicated for planning, research, and review.

In the end, we have formulated a plan that allows us to say with confidence that we can build this dream. We believe in our capabilities to properly manage any unexpected circumstances given the nature of software development that could surface during this journey.
What can users create?

Your imagination is the limit!

As we mentioned before, we have different options available for you:
Creations: Any audio recording you own.
Compositions: Created with our Mixing Tool, the Compositions contain two or more Creations. You can use other users' Creations and/or Compositions to generate new sounds.
Playlists: Created with our Playlist Tool, the Playlists contain a sequence of Creations and/or Compositions.
Live Shows: A live Playlist. Our Playlist Tool allows you to add new Creations and/or Compositions live and chat with your followers.
You can add pictures or text files to enhance any of your Works.

We will try to support as many audio files as we go; however, we will have limited options at the beginning (MP3, WAV, and OGG files).

Also, we will provide functionality to record directly from your device when possible.


What are the Sharing Options?

When you publish a new Work you define the appropriate sharing options. For each Work, you can choose:

Domain Mode
Public: Anyone can see your Work.
Private: Only you can see your Work; however, if you include your Work within Public content other users will be able to see it.
Sharing Mode
Free: Anyone can play your Work at any time (as long as all its content is free as well).
Ad Sponsored: Anyone can play your Work at any time but the page will display Ads.
Purchase Only: To play your Work users need to pay a onetime fee in Credits. The fee is defined by you.
Modo de mezclado
Mezclable: Tu trabajo puede ser modificado por otros usuarios y este puede ser re-publicado. (Mientras todos sus contenidos sean mezclables)
No mezclable: Tu trabajo no puede ser modificado por otros usuarios y no puede ser re-publicado.
Mix Mode
Mixable: Your Work can be modified by other users and it can be republished (as long as all its content is mixable as well).
Not Mixable: Your Work cannot be modified by other users and it cannot republished.
Download Mode
Downloadable: Your Work can be downloaded and used in any external site, application, activity, etc. (as long as all its content is downloadable as well).
Non Downloadable: The Work cannot be downloaded and it is meant to be used only within Souni2. The Ad Sponsored Works only can be Non Downloadable.
For Creations only, there is an additional mode:

Commercial Mode
Commercial: A Commercial Creation can be used for advertisement purposes within Souni2. A Commercial Creation will always be Public, Free, Mixable, and Downloadable.
Not Commercial: A regular Creation with your desired sharing options.

What about the Credits?

Credits are the in-site currency. Everything you earn will be in Credits and everything you can buy will be priced in Credits.

Earn Credits

There are 4 ways to earn Credits:
Purchase Credits on Souni2 Online Store.
Every time an Ad Sponsored Work is played.
Every time you sell a Purchase Only Work.
Every time a Work containing a Commercial Creation is played.
Your Ad Sponsored Works generate Credits even when used inside other user's Works.

Spend Credits

In a similar way, you can spend Credits in 3 ways:
Buying Subscriptions.
Paying for Purchase Only Works.
Paying for your Commercial Creation.
In general, we will try to keep Credits at a gross value of 1 USD = 1000 Credits; however, under certain conditions (e.g., platform commissions, taxes, etc.), the conversion would be reassessed.

Convert Credits

You can convert your Credits into USD if:
You have an Active Subscription,
You have at least 50,000 Credits in your account (for first transaction only) and
You have a valid Paypal account (additional options will be added in the future).
Please keep in mind that we will not charge commissions over the conversions; however, we have to consider taxes and money transfer commissions which may impact the Credit transfer to USD. As of now, we are expecting a net exchange of approximately 1200~1250 Credits = 1 USD.

Also note that every cash transactions would be subject to the appropriate due diligence to prevent any illegal activity.


What are Commercial Creations?

A Commercial Creation refers to content to be used as part of a Commercial Campaign.

To generate a Commercial Creation you will need to provide the following:
A Creation with the message you want to promote (e.g., "please support the Souni2 Indiegogo Campaign").
Duration: How long you want people to use it to promote your message (up to 2 Months).
Success definition: Minimum amount of reproductions to identify a successful Commercial Campaign (it can be 0 reproductions).
Credits for Successful Campaign: The amount of Credits to be distributed among all the users that used the Commercial Creation if successful (it can be 0 Credits).
Credits for Unsuccessful Campaign: The amount of Credits to be distributed among all the users that used the Commercial Creation if unsuccessful (it can be 0 Credits).
When the Commercial Campaign ends, Souni2 will distribute the assigned Credits based on the number of reproductions and the Commercial Creation will be deleted (except from the Creator's files).

We will promote active Commercial Campaigns on the Souni2 home page. The Commercial Creations rewards and conditions will be available to all users.


What about the Subscriptions?

We intend to implement different types of Subscriptions with specific degrees of advantages for our users:





While Basic, Premium, and Founder subscribers will not see ads, their plays will still generate Credits for the Ad Sponsored Works when applicable.


What are the Site Commissions?

To sustain the site, a commission will be charged based on the Subscription type and the source of revenue:



What about Licenses?

For Free Works we are thinking in using Creative Commons' licenses Creative Commons, specifically, (Attribution-ShareAlike 4.0 International).

For the Commercial licenses, we are currently contacting copyright lawyers to help us build licenses for the Works that could be used inside and/or outside the site.

We will try to automatically generate the licenses and/or attributions when you create a new Work. You will always have complete control over your Works, our intention is to simply offer an option for you to easily protect and regulate your Works.


Which file types are going to be used?

At this point we intend to use an open and free format like OGG maintained by the Xiph.Org Foundation.


Terminology

Creator: Author of a Creation or a Composition.

Creation: Audio recording.

Composition: Mix of different Creations.

Playlist: List of Creations and/or Compositions.

Live Show: Playlist that can be modified Live.

Works: Creations, Compositions, Playlists and/or Live Shows.

Community: Sound Creation community.

Credit Currency within Souni2.


Credits

Images Courtesy of Simon Chiu and Grant McCullough.